7 Weeks of Tactical Systems & Processes that
Will Shift the Path of Your Business
Apply to Join Today and Get Access to Seven Weeks that:
✔ Shows you the tactical side of real estate, the processes
✔ Provides the Standard Operating Procedures (SOPs) to use
✔ Begins with the backbone of the business and builds upon it
✔ Identifies how to automate tasks to operate with fewer people
✔ Clarifies the staff you need and how to train them quickly
✔ Provides the checklists to monitor and control your business
✔ Result: Do More Deals and Make More Money.
If you are a go getter and ready to apply……click below
What You Get…
👍 Simple Systems to help you run your business
👍 Documented Processes to execute your business plans
👍 Done for You Checklists to get you where you want to go
👍 Tools to Implement These Processes
👍 Proven Recommended Software and Integration of Tools
What it is NOT…

✘ Not Sales Training (See John Martinez for that)

✘ Not Wholesaling Training (Pick one of them)

✘ Not Hiring or Business Advice (See Gary Harper for that)

✘ Not marketing advice, but the process of handling the lead when comes in.
What People are Saying About
Easy Button REI……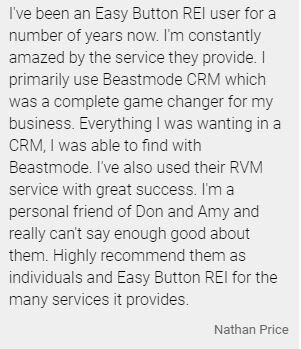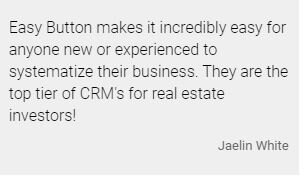 Why Join? Hear it Straight From the Beast…..
WHO IS A GOOD FIT?
Established investors who want to improve and streamline

Good attitude and a little OCD (just kidding……..but maybe not)

Struggling with tools and deciding what procedures to follow

Looking for the process that fits their style and culture

Does not believe that "douchebag" or other variation is a management style

Understands that systems and processes always evolve

People who love to share ideas, which will make us all better
WHO IS NOT A FIT?
Mr. (or Ms.) shiny object

Negative people that always find something wrong (we just don't want to be around you)

Anyone who does believe "douchebag" is a management style

People who can't follow directions or think systems are silly
What should you do right now?
Schedule a 15 Minute Phone Call